Certain groups, including older people and those with certain underlying health conditions, are more at risk than others. But there are things both the government and individuals can do to help
by
Hassan Vally
/ March 23, 2020 /
Leave a comment
As we learn more about COVID-19, it's increasingly clear that your risk of severe illness and death increases with age.
Children under nine years of age seem to be largely unaffected, either with no or mild symptoms. None have died as a result of the infection.
People over the age of 80 years and those with chronic diseases are the most vulnerable. For those over 80, approximately 15% of those infected will die.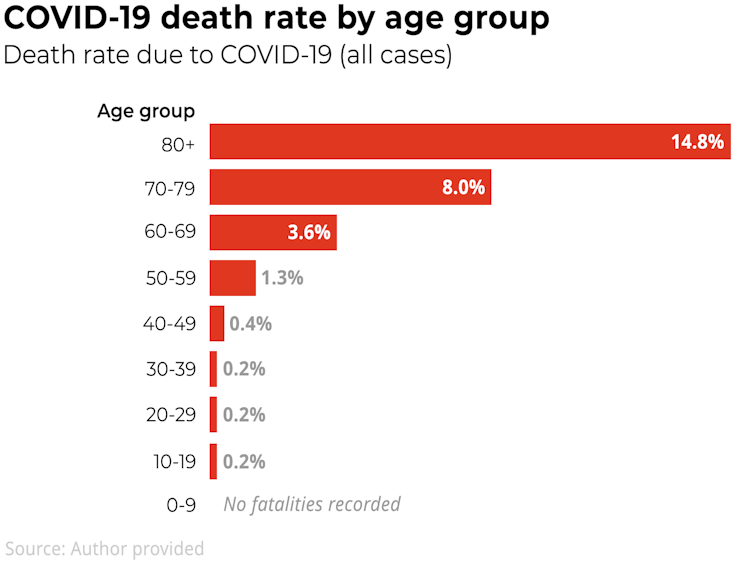 The death rate starts to increase for those over 50 years of age. Those under 50 years who are infected have a death rate of 0.2-0.4 per cent, while for those 50-59 years it's 1.3 per cent.
For those 60-69 years it's 3.6 per cent, for 70 to 79-year-olds it's 8.0 per cent and for those over 80 years of age it is 14.8 per cent.
A similar picture is emerging when looking at the increased risk of severe illness and death of those with underlying conditions.
The death rate for those with no underlying chronic conditions is approximately 1%.
For those with cardiovascular (heart) disease, the death rate is 10.5 per cent, for diabetes, it's 7.3 per cent.
Chronic respiratory disease (such as asthma and chronic obstructive pulmonary disease) has a 6.3 per cent death rate, for hypertension (high blood pressure) it's 6.0 per cent and cancer is 5.6 per cent.
Why are older people at greater risk?
The likelihood of having chronic conditions increases markedly as you age. Four in five Australians aged 65 years and over have at least one chronic condition.
But the presence of chronic conditions only partially explains the high death rate in older people.
As we age, our immune system weakens. This makes us more vulnerable to infections of all types. And any sort of challenge to the body can do more damage.
When the immune system gears up in older people, there is also a higher likelihood of a phenomenon called a cytokine storm. This is where the immune system overreacts and produces too many of…
2085241905fc9f2f0b11187.79998724